KDDI, Cisco, and Fujitsu start full-scale operation of telecommunications network to reduce power consumption by approximately 40%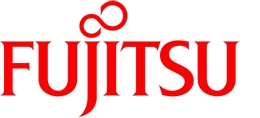 TOKYO, Oct 31, 2023 – (JCN Newswire via SeaPRwire.com) – KDDI Corporation, Cisco Systems G.K, and Fujitsu Limited announced that on Oct 1st, 2023 they have started full-scale operations of the metro network, a regional network that combines the IP layer network and optical transmission layer network for streamlined operations.
The metro network features a configuration (1) that integrates the IP layer and optical transmission layer by using Cisco NCS5500 series routers, which can directly transmit and receive optical signals for WDM (2), and Fujitsu's 1FINITY series (3) Open Line System (OLS), which can be connected to other companies' products through an open interface. This approach makes it possible to reduce the number of devices compared to a conventional configuration that connects a router and a transponder (4) for WDM, reducing power consumption by approximately 40%. The new configuration also makes it easier to expand capacity, enabling rapid response to increases in communications traffic. KDDI plans to deploy the metro network across Japan by the end of fiscal 2028.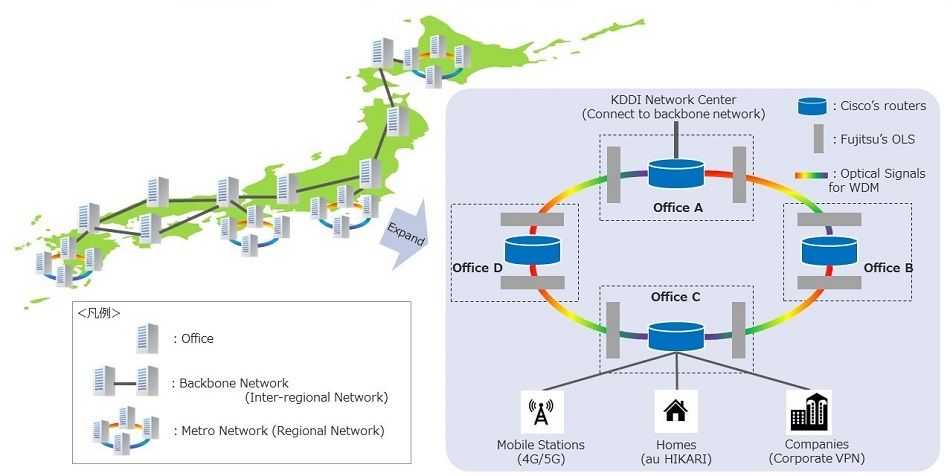 Background
With the nationwide rollout of 5G services in Japan, which are now in widespread use, the number of users of video and other data-intensive services is increasing, and the volume of communications is growing rapidly. KDDI aims to achieve net-zero CO2 emissions in its non-consolidated business activities by FY2030, which will make it necessary to reduce power consumption throughout its business. The rapid expansion of network infrastructure to cope with the increases in communication volume present an ongoing challenge to this objective.
Features of the metro network
KDDI has introduced this configuration to its metro network in some areas of Japan starting in 2021. As KDDI has confirmed stable operation, it will start full-scale operations to accommodate multiple services such as 5G, au HIKARI, and corporate VPN.
1. Reduced power consumption and space saving by fusion of IP layer and optical transmission layer
The new configuration eliminates the need for an enclosure to mount the WDM transponder, which was previously installed externally, thereby reducing power consumption, and saving equipment installation space. The WDM transponder is miniaturized into an optical module and mounted in a Cisco router. The optical module itself has been optimized for low-power consumption through improvements in the semiconductor manufacturing process.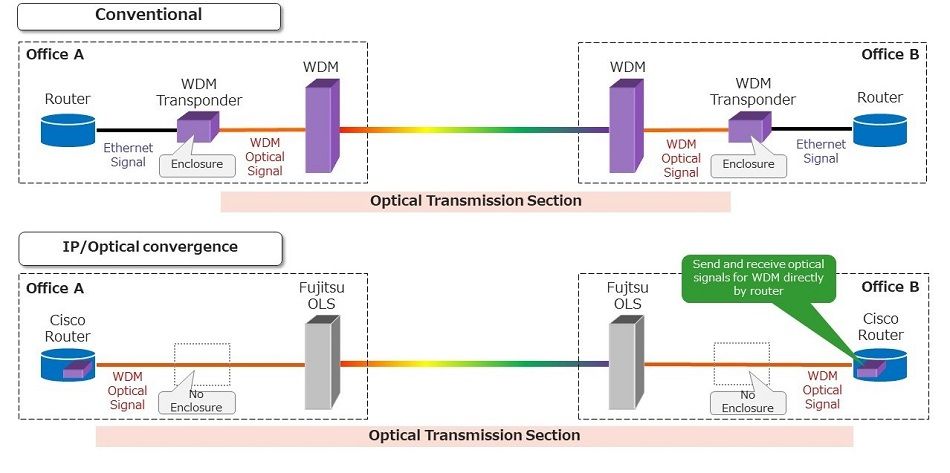 2.Openness enables rapid facility expansion
The Fujitsu OLS "1FINITY" series adopted for the metro network's inter-station transmission lines supports open interfaces, allowing connection to a variety of equipment, including products from other manufacturers. Therefore, when expanding the transmission capacity between stations, the capacity can be expanded only by adding hardware or changing setting on the router side. This enables a quick response to future growth in communication traffic.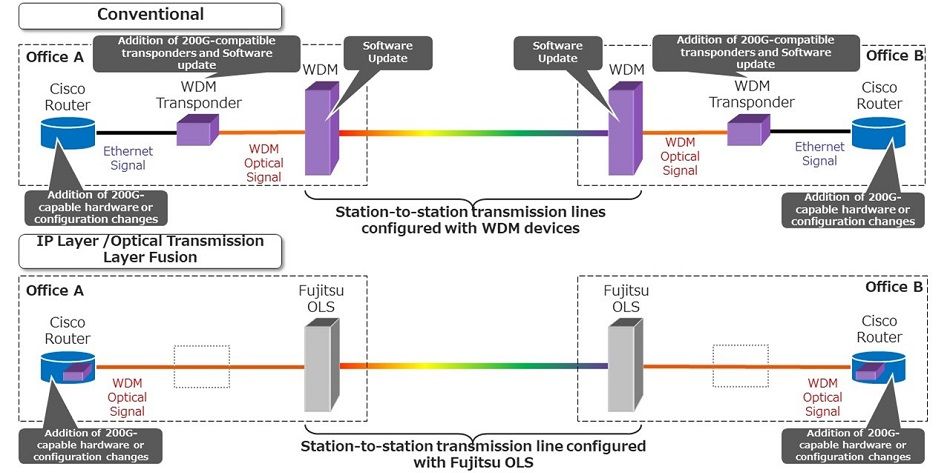 KDDI is promoting the construction of an all photonic network (5) that can achieve high capacity with low power consumption, whereas the convergence of the IP layer and optical transmission layer represents the first step toward an all photonic network. KDDI will continue to realize sustainable networks and contribute to the reduction of CO2 emissions by introducing architectures that contribute to the reduction of power consumption, and by making networks open.
Cisco is expanding its technologies for network sophistication, such as simplification and automation of network and device operations, to realize an inclusive future for all people in the Beyond 5G/6G era and developing technologies and ways of working that are more sustainable for the environment, as well as for business.
Fujitsu is promoting the creation of resilient and human-centric networks for the future, from 5G and 6G technologies to optical backbone networks, and is supporting telecommunications carriers in becoming carbon neutral by widely deploying products in the market that realize low power consumption in networks.
[1] Configuration in which optical signals for WDM are sent directly from the router and are transmitted by OLS or WDM. Previously called IP over DWDM or IP Optical, current name is RON (Routed Optical Networking).
[2] WDM :Technology that multiplexes and transmits multiple optical signals of different wavelengths over a single fiber.
[3] 1FINITY Series :Optical transmission system manufactured by Fujitsu Limited. In addition to WDM functions, blade-based function enables rapid application of the latest networking technologies and open interfaces for connectivity with third-party products.
[4] Transponder :Compound word for transmitter and responder; a transponder performs mutual conversion between Ethernet signals and optical signals for WDM.
[5] All photonic network :A network that achieves ultra-high speed, low cost, and low power consumption by transmitting optical signals as they are, without optical-electrical conversion of signals.About Fujitsu
Fujitsu's purpose is to make the world more sustainable by building trust in society through innovation. As the digital transformation partner of choice for customers in over 100 countries, our 124,000 employees work to resolve some of the greatest challenges facing humanity. Our range of services and solutions draw on five key technologies: Computing, Networks, AI, Data & Security, and Converging Technologies, which we bring together to deliver sustainability transformation. Fujitsu Limited (TSE:6702) reported consolidated revenues of 3.7 trillion yen (US$28 billion) for the fiscal year ended March 31, 2023 and remains the top digital services company in Japan by market share. Find out more: www.fujitsu.com.
Press Contacts
Fujitsu Limited
Public and Investor Relations Division
Inquiries (https://bit.ly/3rrQ4mB)
Copyright 2023 JCN Newswire via SeaPRwire.com.